The Dragon Boat Festival
Dialogue Dragon Boat Festival A: Have you heard about the Dragon Boat Races to be held this afternoon? B: Yes, it is part of a holiday, right? A:Yup,Dragon Boat Festival.We usually eat zongzi on the Dragon Boat Festival. B: Other than the Dragon Boat Races, whats special about this day? A: Traditionally, it was thought to be a time for warding off evil spirits, but now its just thought of a time to remind family members to take care of their health. B: Sounds great! I think Ill join in on the bo
Dialogue Dragon Boat Festival
A: Have you heard about the Dragon Boat Races to be held this afternoon?
B: Yes, it is part of a holiday, right?
A: Yup, Dragon Boat Festival.We usually eat zongzi on the Dragon Boat Festival.
B: Other than the Dragon Boat Races, what's special about this day?
A: Traditionally, it was thought to be a time for warding off evil spirits, but now it's just thought of a time to remind family members to take care of their health.
B: Sounds great! I think I'll join in on the boat competitions.
A: After you've worked up an appetite, you can eat Zongzi. Everyone eats them during the Dragon Boat Festival.
B: Eating is a really important part of Chinese culture, huh?
A: Yes, perhaps one of the most important aspect. Don't worry though; there are no surprises in Zongzi. They are just rice with either meat or sweet red bean paste wrapped inside. They are quiteyummy!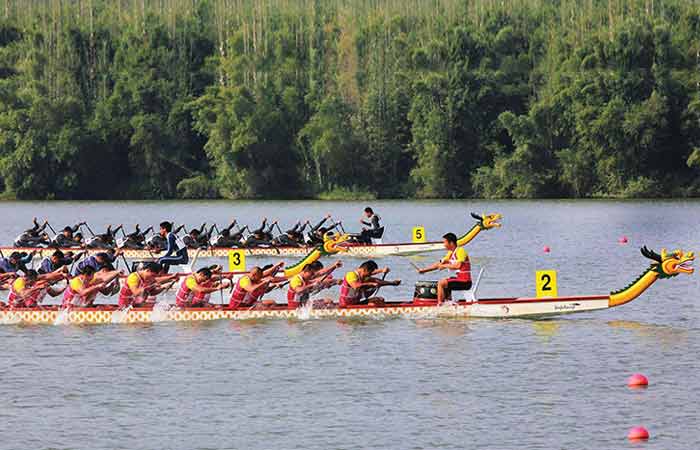 The aim of this summer festival is to cherish the memory of an official politician called Qu Yuan, who is also a giant poet.
He wasrespected for his great patriotism Unfortunately he gradually
Unable to regain the respect of the emperor, watching his country falling into enemies, Qu Yuan threw himself into the Mi Low river and killed himself.
The local people living adjacent to the Mi Lo River rushed into their boats to search for him while throwing rice into the waters to appease the river dragons.
Although they were unable to find Qu Yuan, their efforts are still celebrated today.
This Article Keywords:
The,Dragon,Boat,Festival,Dialo